We stage two or three concerts per year, plus a Christmas Concert. Our repertoire is mainly focused on the larger choral works, although our summer concerts usually have a more mixed and lighter programme. Examples of larger choral works are Bach's St John Passion, Britten's War Requiem, Mozart's Coronation Mass, Handel's Messiah, and Requiems by Fauré, Mozart, Brahms and Verdi.
We sing in a variety of languages as we always try to perform in the original language of any composition. In addition to Latin and English we have sung in German, French, Italian and Czech. For our main concert we usually have an appropriate orchestra of up to about 40 members but for the summer concert we tend to use the  state-of-the-art digital organ and Steinway concert grand piano both of which are kept within The Falklands Chapel.
Occasionally we do a capella work and sometimes choral society members perform solos or as part of a sub-choir.
Our Director of Music is heavily involved in selecting our programmes and helping us source good quality soloists and accompanists.
We are always keen to welcome singers of all ages. 
2013-2014 was our 40th Anniversary Season, during which we staged an extraordinary anniversary
concert where our then current and former musical directors conducted a range of works. 
In March 2016 the Society performed Bach's wonderful Mass in B Minor for the very first time, and the concert was a triumph. As a contrast our summer concert in June 2016, including Rutter's Gloria, was accompanied by the excellent assistance of the Wantage Silver Band.
Our spring concert in 2017 took us on a journey of sacred music from Tallis to Bruckner via Purcell and Mozart, and in summer 2017 we performed songs from the great American songbook to much acclaim. An inspiring performance of the Mozart Requiem in March 2018 was followed by a lighter "songs from the shows concert" in June. 
In spring 2019 we performed Puccini's Messa di Gloria and Poulenc's Gloria. The summer concert was a programme of spirituals featuring Tippett's Five Spirituals. 
More pictures  of the choir rehearsing for German Requiem in 2011.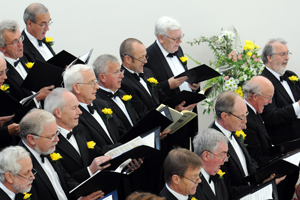 Full details of our forthcoming concerts are on our Next Performances page, including ticket information when available.