A thriving, non-audition choir based at The Falkland Islands Memorial Chapel in Pangbourne College, Berkshire
A thriving, non-audition choir based at The Falkland Islands Memorial Chapel in Pangbourne College, Berkshire
Love singing?
Interested in joining?


Would you like to attend a performance?
We stage three concerts per year, including a Carol Concert in aid of the League of Friends of the Royal Berkshire Hospital.
Our repertoire is extensive spanning works from the 16th to 21st centuries and including religious choral works in a range of styles from renaissance to modern. 
Our summer concerts usually consist of lighter, often secular material including extracts from operas, musicals and popular music.  
We have performed many Requiems from Mozart, Faure, Verdi and Brahms to Britten's War Requiem. Bach has featured with B Minor Mass, Magnificat and St John's Passion.
 See full details of our forthcoming concerts, (including ticket information when available) and of past concerts.
We are always keen to welcome singers of all ages, and this website has plenty of information for you if you are thinking of joining the Society.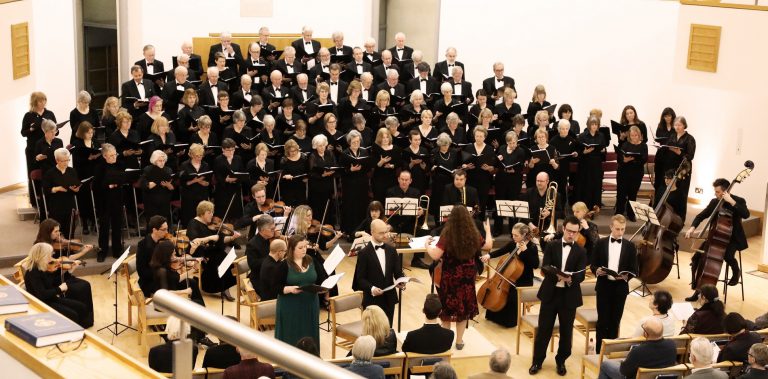 Superb singing performances despite last-minute loss of key participants
Summer Joy: Pangbourne Choral's return to Falkland Islands Memorial Chapel June 2022
I am very sorry to leave, I have thoroughly enjoyed being part of such a wonderful choir.
Audience participation so great they even ask you to join at the end!
Thank you for another wonderful evening!!
Pangbourne Choral Society is a shining example of the pride that England takes in amateur choral singing.
It was clear that the choir enjoyed performing this youthful piece and were very responsive to their conductor.
Danae is thrilled to be singing the Poulenc Gloria solos with the Southern Sinfonia and Pangbourne Choral Society
...send thanks to all members of PCS on their splendid performance at the carol concert last night
It has been a pleasure and a privilege to work with you for the last three and a half years
...it was a wonderful evening, the choir was magnificent and the soloists excellent...
Its been so long….but oh so lovely to be back. THANK YOU so much - it was a lovely evening - (after 1st get together post-Covid)
THANK YOU for a wonderful evening. Its been great to be back singing and being able to perform tonight.
I thoroughly enjoyed the evening and I thought Chris took the rehearsal extremely well
It was so good to be back ! I really enjoyed the session
I so enjoyed the evening, and getting back to singing again, despite the distancing, mask on, mask off, and liked the 3 pieces we were given
I was there and thoroughly enjoyed it - I think Chris may be the best yet! - returning member on attending a rehearsal March 2022
The Parry is so beautiful - sometimes I just listen to the others singing!
I really enjoyed Tuesday's rehearsal and would deffo love to join the Choral Society
I absolutely loved every moment and can't wait for next week
I was there and thoroughly enjoyed it - I think Chris may be the best yet